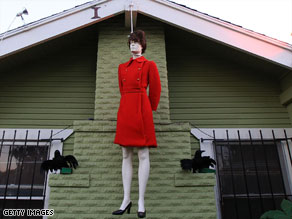 LOS ANGELES, California (CNN) -- The mayor of West Hollywood has condemned a Halloween display resembling Republican vice presidential candidate Sarah Palin hanging by a noose.

A Halloween display resembling Sarah Palin hanging in West Hollywood. The life-size doll with a white noose around its neck is outfitted to look like Palin -- with a beehive wig, glasses and a red business suit.

It hangs in front of the North Orange Grove Avenue house of the display's creator, Chad Michael Morrisette, who also put up a depiction of Republican presidential candidate John McCain engulfed in flames.